Healthy living for the modern world.
BACKED BY SCIENTIFIC RESEARCH

We decode your precise diet + exercise plan to transform your physical health, manage your stress, and even deliver genetically matched groceries to your door.
---
Personalized—just for you.
There is no one like you—know your body's sensitivities + natural responses to steer clear of behaviors + habits that could throw you off track.
Same-Day Grocery Delivery
Having your genetically matched groceries delivered makes healthy eating effortless. Compatible with Kroger, Amazon Prime, and more!
Goodbye, stress... hello, health!
Maintaining a healthy weight is vital for your health. Most people drop 10 lbs and keep the weight off for good with our genetically matched fitness plans.
---
Your DNA's blueprint for
unlocking optimal health
---
MyRxDiet is our fan favorite. It helps you uplevel your health + self-care practices no matter where you are on your wellness journey.
Added bonuses? You'll have better solutions to manage your stress, you'll understand how your body responds to different types of exercise, and you'll be able to get genetically matched groceries delivered to your door!
Transform your health,
transform your life.
"Heart health was spot on regarding family history. This has given me the advantage that I need to be proactive!"
"I found out why I've always felt sluggish! My genes show low utilization for Folic acid. My nutrigenetic counselor suggested I add choline into my supplements, and I'm amazed by how energized I feel!"
"I lost 60 pounds with this program. I'm eating well, and getting the right groceries delivered to my door."
"Nutrition came back with unexpected results—a Mediterranean type of diet isn't what's best for my genotype. After cutting out Mediterranean foods, I feel a tremendously positive difference!"
How Reports Are Generated + Importing 23&Me Data

The Best Seller: MyRxDiet
How It Works
Science backed reports just for you
Our standard reports are generated from a quick, easy cheek swab kit that you use in the comfort of your own home—or by connecting your 23&Me, or AncestryDNA data (Fast Track Reports). The genetic experts in our lab then analyze your genes to deliver the best science-backed diet and exercise recommendations based on your specific genotypes.
Remember: no one has your same DNA, and not even your family members will have the same results as you.
After You Order, Complete These 3 Steps
When your kit arrives in the mail, be sure to register it in our portal.
Standard Reports require you to submit a cheek swab kit to our labs. Your kit will be shipped out to you 24-48 hours of your purchase. Results arrive in 3-4 weeks.
Fast Track Reports are the best option if you've already swabbed your DNA for AncestryDNA, MyHeritage, or 23&Me. Connect your data so that you don't need to swab again!
Step 1: Swab
Compete the cheek swab test following the directions listed on the packaging.
Step 2: Register
Register your kit on our secure portal using the code on the back of your kit.
Step 3: Mail
Send your swab test back to the lab using the mailing materials included in your kit.
Activate Your Account, Access Your Results
We generate a precise action plan for you to take charge of your health.
Say hello to our ultra-secure client portal. H

ere's how to use the portal...

 

1. Register your kit in the portal before sending to our lab.

 
Fast Track Reports: purchase your report using the same email you used when purchasing your 23&Me, Ancestry, or MyHeritage report and follow the instructions emailed to you after purchase.

 

For Standard Reports: Your unique swab kit id number is on the back of your kit. Use this number to register yourself into our portal, and write this number in a safe place for your reference an safe keeping.
2. Access Your Results
Fast Track Reports: Your results will be ready in the portal after 48 hours.
 
For Standard Reports: It takes 3-4 weeks for your report to be generated after it arrives in our lab.
 

After your data is processed, the

report will always be available in our secure patient portal. We take your genetic privacy very seriously, and we do not sell or repurpose insights from your DNA. It's not part of our core set of values—we're just here to help you transform your health!
3. Download Your Results
We recommend you download your short report, full report, and genetic profile for your safekeeping. These are key insights that are hard to come by and can help you on the long road ahead—you never know when you might need it!
4. Activate Grocery Delivery
Activate our meal planning tool inside the portal to automatically generate your genetically matched meal plan and grocery list for each week.

You sign up, we import your genetic requirements, and then your app is ready to go for same-day grocery delivery using Whole Foods, Amazon Prime, Kroger, and more!
.
Grocery delivery is compatible with MyRxDiet report.
Healthy eating made effortless + easy
This way you'll never have to go back to living an unhealthy life
We know that change, big or small, can be hard. That's why we created this grocery delivery tool.
Up until this point, the fuel you needed to build a healthier body was a mystery.
Not ever truly knowing what your body requires and having to rely on trial and error is rough. It can result in you questioning your dietary decisions and can also hold you back from ever truly committing to healthier habits.
The day you get your MyRxDiet Report, that all changes. You know the exact types and quantities of carbs, fats and proteins that are right for your body type. All you need now is a plan... a meal plan.
How the meal planning tool works
Same day grocery delivery saves you time + money
You specify your diet + taste preferences.
Preset your taste menu to paleo, mediterranean, keto, vegan, etc.

Set food allergen preferences to eliminate gluten, dairy, nuts, etc.
Access daily meal plans that are genetically-matched to your dietary needs.
Daily meal plans are based off of your daily caloric intake of carbs, fats and proteins with recipes that work cohesively to fuel your body.

Favor recipes you love, and reset the menu for those you don't love.

Recipes update weekly and adjust to your preferences, so you'll never get bored.
Food shop with your grocery list. Online order for same day delivery!
Your meal plan automatically generates a grocery list for each week.

You can use our online same day delivery feature to import and order the grocery list from

a variety of retailers including Kroger, Sam's Club, Costco, Meijer, Aldi, Amazon Fresh and more!

If you like going to the store, you can have the list emailed to you to reference while shopping (or to keep in your food diary).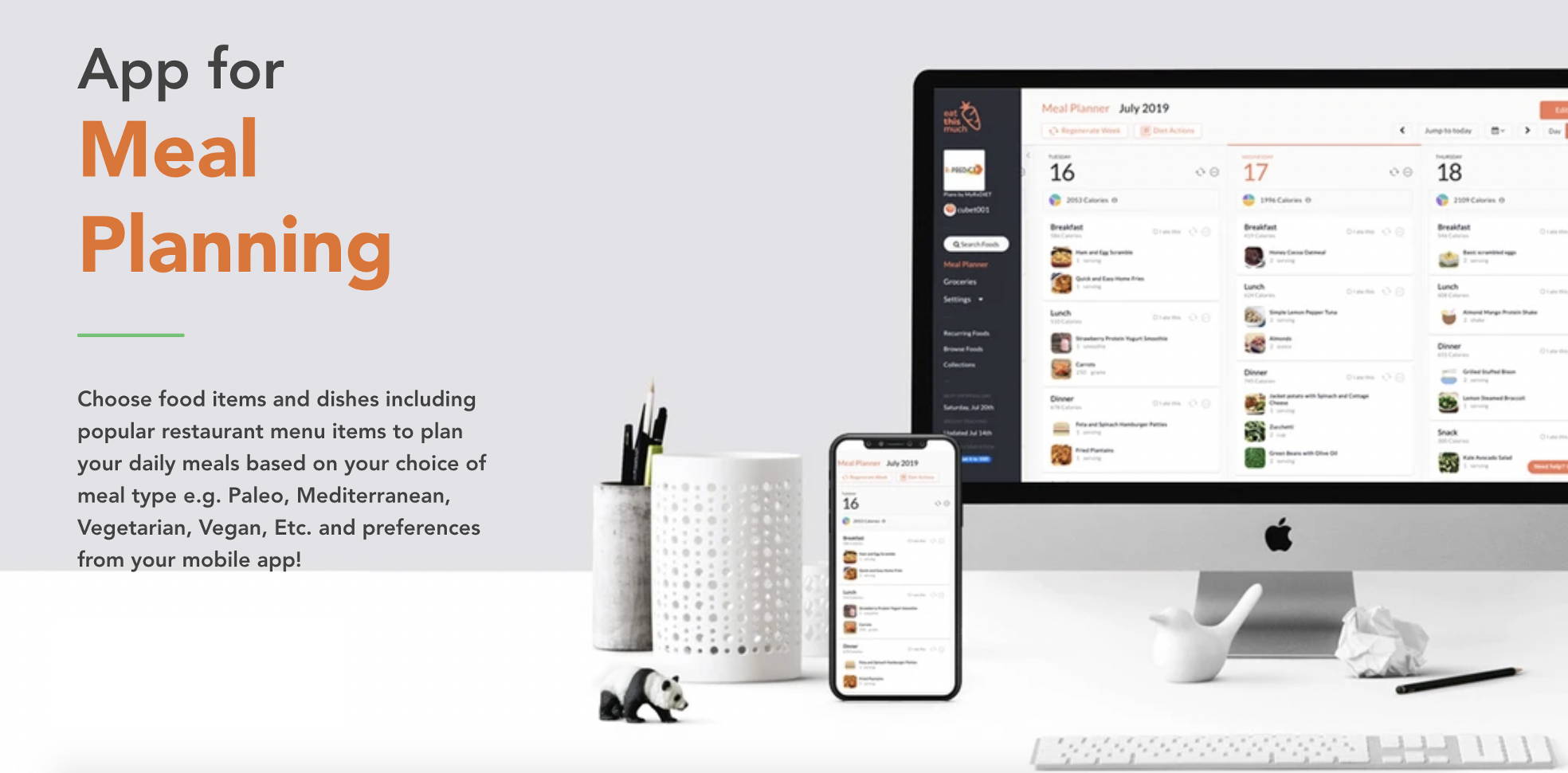 MyRxDiet is our fan favorite!

It generates a blueprint for your health using the five key pillars for optimal wellbeing.
inside your MyRxDiet Report
How efficiently your body utilizes carbs, fats and proteins. What to consume and how much of it.
Likelihood of intolerance to gluten, lactose and addictive eating behaviors.
How effectively your body processes essential nutrients.
How your genetic makeup impacts your weight loss ability.
Recommended activity, duration, frequency and intensity of workouts.
---
What makes this program deliver powerful results?
This program is powered by RxPredict, a top 25 Healthcare AI company dedicated to transforming personal health.

RxPredict specializes in the use of genetic testing, next generation Machine Learning, and Artificial Intelligence (AI) algorithms to provide Individualized Precision Medication, Diet and Exercise Plans.
RxPredict, has been recognized for its innovative solutions, including being named as 1 of the top 25 Healthcare AI companies by Health Data Management in 2017, and 1 of 106 Start Ups Transforming Healthcare in the Risk Analytics, Medication, Nutrition and Lifestyle category by CBInsights.
RxPredict's innovations span across various areas that address the underlying root causes that impact patient Health and Wellness outcomes, including Behavioral & Bio Science, Genetics, Disease Conditions & Progression, Medication Effectiveness & Adherence and Patient Behavior Modification.
Our collaborative mission is to transform healthcare from within—we want you to get to know yourself better so you can start taking empowered action to create lasting health.
Can you use my 23andMe data?
Yes! We can use 23&Me health data.  

If you have completed 23andMe Health Test, we can run your report seamlessly without having to send you a DNA kit.
You will have to grant us an authorization—email us to learn more about our special discount rate for those who don't require a kit: info@rxpredict.com.
No one else has your exact genetic identity, not even your family members.  

We don't believe in generalizations when it comes to health recommendations. We are a data driven company that provides you with precise information about how to achieve optimal health based on your genetics.
Your DNA sample allows us to make diet + fitness plans that are accurate and effective based off of your complete genetic identity.
You can elevate your behavior with simple easy choices—ultimately turning the good genes on and the bad genes off. Yes, we really mean it!
How do you keep my data safe?
We don't sell your data, and we destroy your DNA swabs after your report has been generated.

You register your kit on our secure portal which generates an anonymous ID number. This keeps your report private and secure so that no one will know your data belongs to you.
After your report is generated, our lab destroys your DNA swab. We have a strict data protection policy in place to keep all information private and secure.
We go the extra mile to ensure our labs are trustworthy, safe and reliable.
Does MyRxGenes only offer reports?
No. We're committed to changing your lifestyle habits.

We're not here to generate a report and leave it at your door. MyRxDiet provides you with specific, measurable, attainable, time-bound action plans to improve your health.
That's why we're committed to generating fresh + healthy meal plans, offering doorstep delivery, and giving you custom fitness plans that work best for your body type.